Recession-Era Unemployment
Well, just like that we are already higher in U.S. unemployment than the peak unemployment of the 2001-2002 recession. The Labor Department announced on Friday morning an
absolutely dismal report
of not only 240,000 jobs lost in October -- surely the single worst month for the U.S. economy in more than 25 years -- but also downward revisions to the number of jobs lost in August and September in the U.S. Combined with the revisions which added an additional 250,000 jobs lost during the prior two months, this brings the total jobs lost in the U.S. economy during just calendar year 2008 to a sickening 1.2 million. 1.2 million jobs fewer today than on December 31, 2007. Just think about what that means to the economy in this country (and think about how many more middle class jobs will have to be cut by big business if corporations have their taxes hiked). Anyone out there reading this, if you think your job is "safe", odds are siginficantly great that you are deluding yourself. Lord knows my job is at risk, as is the job of just about every one of the what, 12 million people sitting in their offices within a couple miles of me right now in New York City.
Looking back at recent history as a guide, the U.S. unemployment rate, which today spiked unexpectedly strongly to 6.5%, peaked at 6.4% in 2001, and now sits at its highest rate since March 1994. Anybody wondering how bad U.S. unemployment can typically get in good times, in "normal" recessions, and in the bad recessions? Well, I'm your guy. The internet is a wonderful thing.
Here's the chart of historical unemployment rates, by percent of the measured workforce, which are reported monthly by Labor, going back to 1948. The vertical strips on the graph show the economic recessions superimposed on top of the unemployment rate chart below: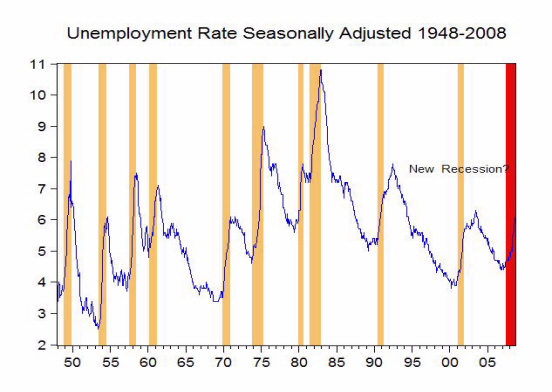 Now, as you can see from the chart above, using economists' generally-accepted definition of a recession as two consecutive quarters of shrinking U.S. GDP, there have been ten recessions that have occured since 1948, not counting the one the U.S. is currently in, which will be the 11th. Following are the peak unemployment rates, expressed as percentages, for each of those ten recessions:
1948-49: Oct 1949 7.1%.
1953-54: May 1954 5.9%
1957-58: Jul 1958 7.5%
1960-61: May 1961 7.1%
1969-70: Mar 1971 6.0%
1973-75: May 1975 9.0%
1980-80: Jul 1980 7.8%
1981-82: Dec 1982 10.8%
1990-91: Jun 1992 7.8%
2001-01: Jun 2003 6.3%
So, at 6.5%, we are already ahead of the peak unemployment rate in the brief and shallow recession following 9-11 in late 2001, although interestingly that peak did not occur until summer of 2003, well after the end of that particular recession. We are also ahead of the peak in the 1969-70 recession as well as the 1953-54 trough, both also regarded as relatively shallow recessions from a historical perspective. The Great Depression, not on these lists because the monthly unemployment figures were not officially measured and recorded until after World War II, is widely known to have featured the worst unemployment rates in U.S. history and is clearly the deepest, most sickening recession we have seen, with unemployment widely believed to have peaked just above 25% during 1933. But even with all the financial crisis business going on, there is no reason in my mind to believe we come anywhere remotely
close
to that level today. But this leaves a lot of room between 6.5% and 25% to try to figure where we land on the unemployment scale.
Assuming this is one of the more severe, deep recessions the U.S. experiences, as is widely believed and which I personally believe to likely be the case as well, we can look to the deeper recessions on the above list as a guideline to the likely landing point for U.S. unemployment. The two longest and deepest recessions in the U.S. measured by U.S. Gross Domestic Product since 1948 occurred in 1973-75 and 1981-82. This should not be surprising, as unemployment rates during those periods peaked at the highest points in the last 60 years as well during those two troughs, at 9.0% in May of 1975 and a whopping 10.8% in November and December of 1982. Those are hideous figures for sure, ones which would mean an increase in total unemployed persons in the U.S. by another 50% or so from current levels.
At this point in time, I can't (or don't want to) think of things getting quite that bad in the recession of 2008-2009. But in even the "normal" recessions -- the things I have written about here that happen with stark regularity as a natural effect of the economic cycles of capitalism -- unemployment has tended to peak somewhere north of 7%. That seems highly likely here. In fact, as this economic trough is likely to be more severe than your average recession, it seems logical to expect a higher than average number of unemployed Americans this time around. Looking at all those figures above, I think a final peak unemployment number of somewhere between 9 and 10% probably seems like a rational, reasonable expectation. As I mentioned, however, that is going to be a major mess for incoming President Barack Obama, as there are already 3.84 million Americans on long-term unemployment with the unemployment rate sitting at 6.1%. Raising that number to 5-6 million people out of work over the long term can only lead to hideosity for the national economy in the short term.
Which is why a story like
this
is so encouraging. Despite the stated goal of the left in this country to increase redistribution of wealth from the alleged "upper" class to the middle- and lower class, we are at least starting to see some senior Democrats acknowledging what I've been saying for a long time and was in fact calling for here just yesterday. Stimulating the economy needs to be Issue #1, 2, 3, 4 and 5 in the minds of the leadership of this country right now, and doing that certainly should not include tax hikes, not even on the richie riches of the world. Permanent tax
cuts
, on the other hand, now that's what I'm talkin about. Not because I want or need to have more money in my own pocket, but rather only because kick starting the economy is crucial for all the people of this country. Maybe Nancy Pelosi actually isn't the biggest fool of all time after all?
Labels: Economy, Obama, Recession, Unemployment