Deepening Recession
As you can probably tell if you've been reading here with any regularity over the past several months, I am hugely into the economy, the stock market and all things business. I've been reading up quite a bit just lately on the pace of retail and enterprise sales over the past few weeks, trying to get a handle on what is happening with the U.S. economy
right now
, as opposed to in the third quarter, a couple of months ago or even a couple of weeks ago. This is how I expect to be able to profit in the stock market even during this time of obvious economic suckitude -- by staying ahead of the market and making some moves to predict what is likely to happen in the coming days and weeks on Wall Street.
So, we all know how bad September was for the economy. Lehman Brothers fell, Merrill Lynch was forced to sell itself, AIG collapsed. The joke of a TARP plan was put forth and eventually passed, and the shock to the whole economic system in September was tremendous, clearly triggering a negative GDP reading for the first month in more than six years as a result, and sending the major U.S. averages down close to 10% for the month.
And then came October. Instead of bouncing back, the economy took a big turn for the worse, even from September's crappy numbers, as the bottom fell out of the stock market, with nearly every single leading U.S. index posting its worth month in history. This had two devastating effects from an economic perspective. First, individual consumers -- you and me -- saw their net worth, their life savings, their retirement accounts, you name it, all plunge to ridiculous levels, and this caused the consumer as a whole to really pull in their belts when it came to spending on things like clothes, electronics, vacations, holiday gifts -- all the stuff we're usually out there buying up in droves around this time of year. But secondly, and in many ways even more crushing to various sectors of the U.S. economy, businesses took a look at their stock prices, their falling revenues, and they all started reining things in as well. Big time. Sure, the Amazon.com's and the eBay's and the Home Depot's and the Gap's of the world suffered in October as the consumer stopped spending, but the effect of the slowdown in corporate spending was devastating as well to companies like Microsoft, Intel, Dell, ADP -- enterprises whose primary customers are businesses, not individuals. For much of the technology space at large, the complete and utter freezing of IT spending by companies in the U.S. and around the world turned October into the worst month from an economic perspective in most people's entire lifetimes.
Since October ended, the big question at least in my mind has been how will November's economic numbers shape up? After the shock of September and the huge dropoff in October, can it get any worse? And sadly, from what I've been reading, I believe the answer is going to be a resounding Yes.
First, the consumer front. Although initial reports were that Black Friday retail revenues came in ahead of expectations, causing a bit of optimism as this past weekend began for the retail sector at large, the news seems to have only gone downhill from there. Word is that the rest of the post-Thanksgiving weekend saw far smaller crowds than expected, and that overall sales for the traditional beginning of the holiday shopping season are not shaping up well at all. Just on Tuesday, we saw
analysts predicting dismal retail sales for the month of November overall
, in many cases down well into double-digits from November 2007 levels, which take it from me is a pretty much unheard-of sized drop. Credit card giant Mastercard is confirming this trend in Wednesday's Wall Street Journal, with its credt sales tracking unit reporting that
November sales appear to have sunk by 20% at apparel and department stores, 24% at luxury stores and 25% in electronics stores year-over-year
. Again, for those of you who don't follow this stuff regularly, I have never seen numbers like this for a month in my entire lifetime, that is for sure. The overall point here is, November is shaping up to be yet another hideous month on the consumer side for the U.S. economy, which traditionally comprises about 2/3 of total U.S. GDP. Not good.
What about hopes for a pickup in November on the corporate spending side? This too looks like it's not gonna happen. Market research firm ChangeWave conducted a survey of IT spending professionals in nearly 2000 large U.S. companies in mid-November, and the results were staggeringly awful. First, they asked these IT professionals whether they expect IT spending to increase, decrease, or remain the same in Q1 of 2009 as compared to Q4 of 2008 that we are in now. Here were the results, with a graph showing the results of this question asked every quarter going back to 2001 when ChangeWave first began recording this survey: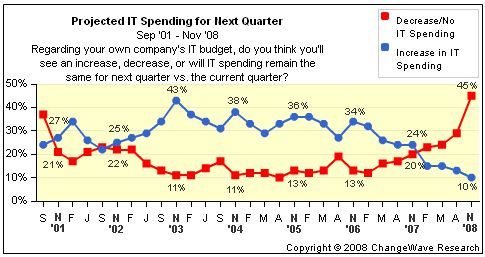 Ooooof. That's worse than yet another 4-outer after the flop I took last night in the blonkament I played. What's more, you can see from the historical numbers that November is typically a very optimistic time of the year, when expectations for corporate spending are generally increasing if you look back for the past several years in the November timeframe. This year, 45% of respondents indicated that Q1 spend budgets are likely to decrease from Q4's budgets, which does not portend well at all for IT vendors in the U.S. even as we head into 2009.
The other disturbing result from the November ChangeWave survey came when they asked how the pace of the current Q4 IT actual spend was going as compared to the amount they had budgeted to be spent during Q4. In other words, we already saw above that companies are looking to rein in spending starting in 2009, but now let's see how much of their budgeted amounts they are even spending here in Q4 of 2008. The results -- equally dismal: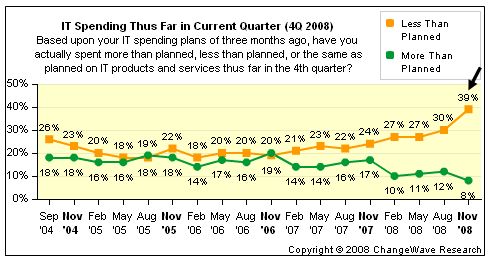 Nearly 40% of respondents indicate that they are already spending less than planned on corporate IT purchases in the October - December quarter, also a dramatically historic high for this survey.
What does all this mean? In a nutshell, I am looking at numbers which indicate that sales on both the consumer and the enterprise side in November are going to come in looking just plain awful. After a very weak September and a devastating October on both fronts, November is not shaping up at all to provide any kind of relief like one might have hoped for for the largest companies in this country. And to me this can only spell one thing, which is continued weakness in stocks for at least the balance of this month until investors can turn their attention to the December news and try to make sense of whether or not a bottom has finally been put in to this dramatic and horrible economic downturn now going on four months in the U.S. economy.
Until then, you can look for me to be shorting enterprise-focused technology stocks, based on the graphs I posted above. There is definitely some money to be made there, if you know how to play it.
Labels: Economy, Finance, Recession, Stock Market